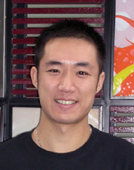 : Director of Interactive, www 互动创意总监
Born in Shanghai, graduated from Tongji University of degree in Electric Information Engineering.
Over 10 years of Web design, system integration and network project experience.
Account experiences: PEPSICO, LensCrafters, CFR, Asia Pacific Advertising Festival, Germany Gladex Company, Nike, The People's Bank of China, Longxi Awards, China Telecom.
土生土长的上海人,毕业于同济大学电子信息工程专业。
超过10年的互动创意与策略丶网站设计与策划丶网络工程设计与管理的经验。
客户经验:PEPSICO丶LensCrafters 亮视点丶华赛 CFR丶吉盛伟邦丶龙吟榜丶龙玺环球华文广告奖丶亚太广告节丶美诺食品集团(中国)丶品奇丶时时乐丶乐杰士丶电通广告丶中国电信丶帮宝适 丶理光丶创意功夫网丶上海外服。
www